Annapurna Circuit Guide is a very descriptive and long article. The following is an outline of what you find here.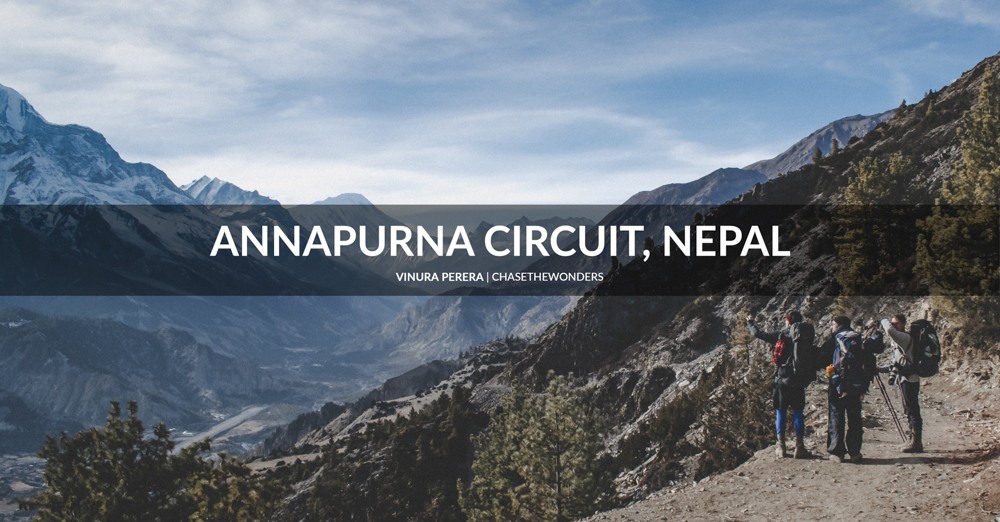 Situated among the mighty mountains in Nepal, the Annapurna Circuit is an isolated and remote area during winter.
Yes, the winter, the off-season.
Because in the high season it is crowded with over 100 hikers. But in the off-season, you might find yourself or your group walking all alone for hours or days.
That was why I choose the offseason. I wanted to be alone in the mountains. To feel the wind, to hear the birds, to enjoy the solitude.
Why I choose Annapurna Circuit(AC) instead of Annapurna Base Camp(ABC)?
It requires more days than ABC. (15 days vs 10 days)
The circuit has many side trek options such as visiting Frozen Tilicho Lake at 5000m and mighty ice lake with breathtaking views,
I wanted to do something challenging.
I am not the best person to compare because I haven't tried ABC. These are based on my experience on AC and the research I did online.
Annapurna Circuit Facts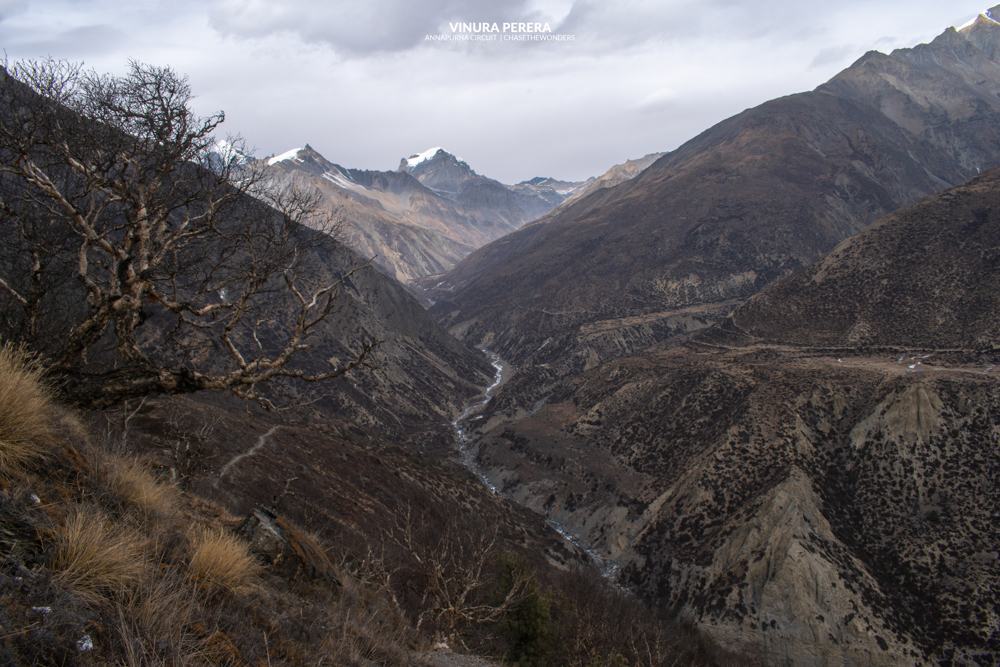 Number of Days: 12–16 days (Depending on starting and endpoint)
Distance: 160–230 km
Elevation: 760 meters at Besisahar up to 5,416 meters (17,769 feet) at Thorong La Pass.
Do you need a guide: Not required. But if you need one please do so.
Accommodation: Teahouses.
Permits: The Annapurna Conservation Area Permit (ACAP) and TIMS
Before you go
Getting Fit
Annapurna Circuit is not an easy hike. It will test you. It will test your physical and metal capabilities.
You don't need to be super fit to do the trek. However, I recommend getting ready for this 3 months before. It won't hurt you to run a little bit and do some push-ups. It will help you on those long days when you are hiking.
Travel Insurance
Travel insurance can be the line between life and death. It will come super handy if you get high altitude sickness or any other injury. Therefore make sure that you have a valid travel insurance that covers following,
Helicopter Rescue
Medical Coverage after 3000m altitude.
Make sure that you read their terms thoroughly. You must know the procedure to follow as well. You can find online insurance such as World of nomads or a local company which covers above.
Choosing the season

Every season has its plus side and downside. Here is a small comparison.
High Season: March- April or October -Early December

Pros
A lot of lodges
Safer to do the pass
You can hike in shorts (it's not cold)
Cons
A lot of trekkers(crowded)
Villages can be overcrowded (might not find accommodation for the night)
Low Season(December – February)

Pros
Isolated and unpolluted nature
Undisturbed wildlife
Cons
It could be cold as -30 degrees
Risk of high snowfall and pass can be closed
Avalanches
Why I choose the low season.
I like to blend with nature more than people. That's one of the main reasons. Also, my uni vacation is in December January.
However, there are different seasons depending on the time of the year. Each month has a different element from snow, rain, wind to the hot sun.
| | | |
| --- | --- | --- |
| Season | Conditions | Hike or Not |
| October – November | Between cold and warm. | Ideal |
| December – March | Coldest period | If you don't mind cold |
| April – May | Warm season | Ideal |
| June – September | Monsoon rains | Don't Go |
Should you Hike Annapurna Circuit alone or with a group?
This is a very personal question. I planned to go there alone because of the following reasons.
No hiking partner from my country.
I wasn't able to find anyone who is going on the same time using online forums.
So I decided to go alone.
However I didn't go alone. I met few people at the Hostel who had planned to go alone, just like me. So we made a group and went all together. I had a blast with them.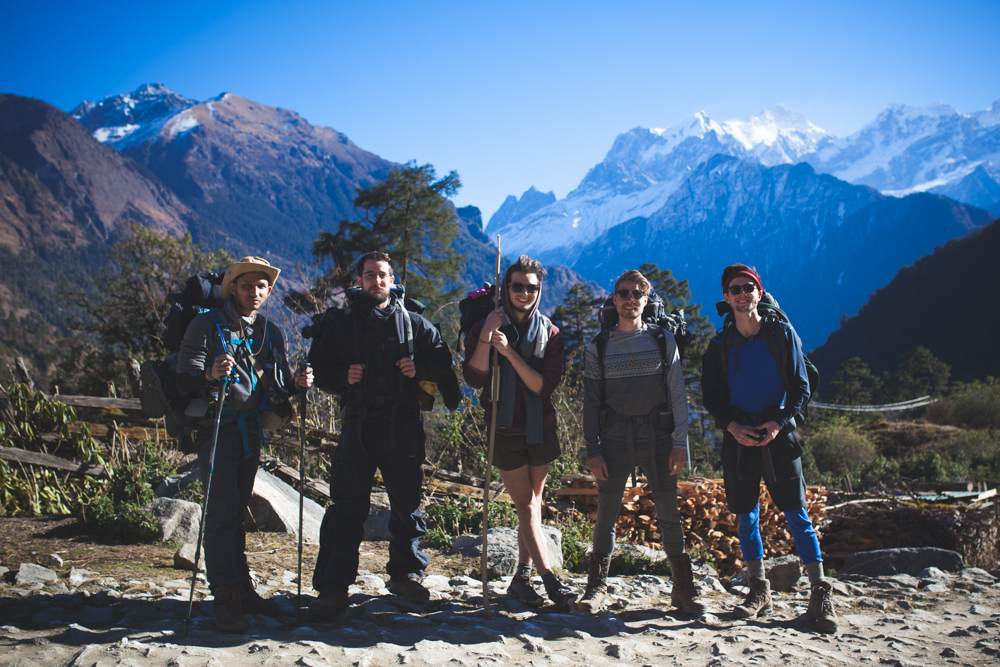 Pros and Cons of hiking Solo and Group
Group

Solo
Pros
You can bargain the price with tea houses. Especially free roof if you promised to buy all the food from there.

Someone is there to help you out in case of an emergency or when passing a dangerous area.

They will motivate you.


You can enjoy the nature and go on your own pace.

Solo by day and meet people at common areas during night.

Side treks and rest days as you want.

Will be a good test on self confidence.


Cons
You won't be able to move at your own pace.

You will have to make decisions together. (if you want to do a side trek but others don't)

You will have to pay fix prices in lodges.

You will have to be extra careful about your own safety. (High Altitude Sickness)
Few tips if you are going with a group
Plan your day ahead. You can plan fix places for lunch and dinner/sleep. Then everyone can walk on their own speed and meet at one place. (We were miserable after the first day because everyone had very different speeds. we did this from the second day)
Check on your friend who is behind you.
If you need an extra rest day, talk with your group.
Personal Experience
Traveling with a group is not my preference. I like to explore alone. But I am glad that I went this with this group. There were times I thought I was slow. I was slowing down the group. But when of my trekking pals said,
Vinura, hike your own hike at your own pace. This is not a race.

Felix, My trekking buddy
That was one of the key things you must remember. Even if you are going with a group. It is not a race.
Also, there was another day that I wanted an extra rest after coming down from Tilicho lake. I decided I am going to stay back at Tilicho Base Camp. My group decided to do another 7 km on the same day and do the next 10 km the next day. We decided to meet at Yak Hara which was 17 km from Tilicho Base Camp. So yes we broke up. I hiked the entire next day all alone and met the guys at Yak Hara.
Do you need a guide or not for Annapurna Circuit?
Annapurna Circuit is doable without a Guide.
It is allowed to do this trek without the Guide by the Government. However, there are things to do consider before you choose to do it solo.
This comes down to 3 things.
Your Experience
The Budget
Your Confidence
Hiring a guide can be expensive. There are a lot of tour operators and it will cost you around $1000. They will provide you with a guide and a porter which is nice. You don't have to worry about permits, where are you going to stay and what not. Yet please do your research if you are getting a guide.
Since you are reading this article, I believe that you want to do it without a guide. It comes down to your confidence and experience. If you have done plenty of hikes and you have an idea about Basic First Aid and mountaineering activities, You can do it.
Packing List for Annapurna Circuit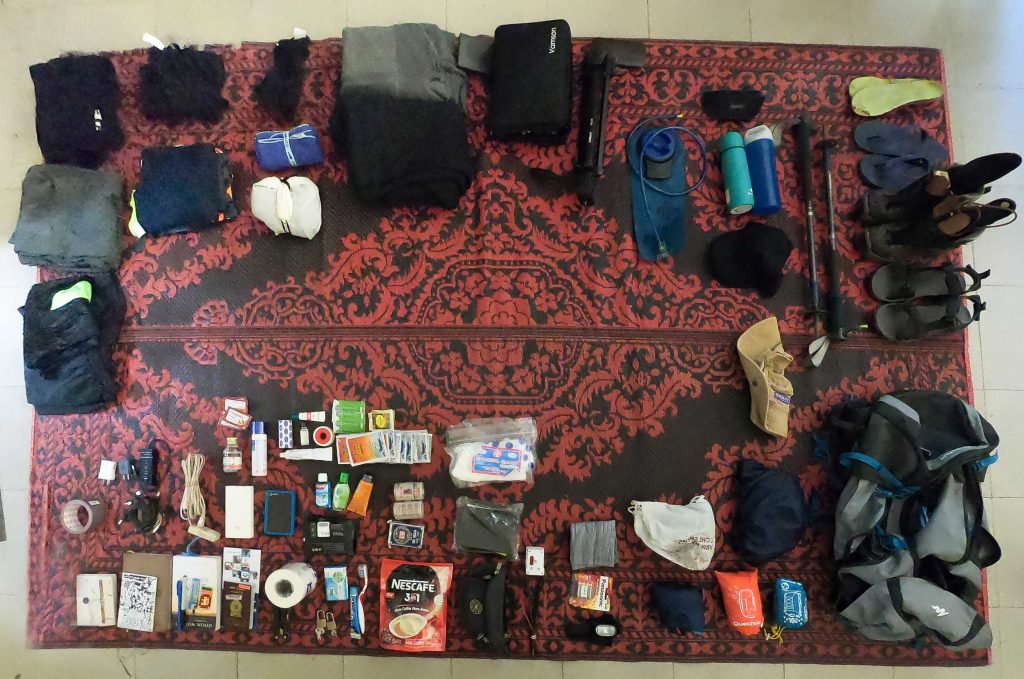 Packing List
This packing list is for the winter season. There is gear such as snow pants especially needed for the winter season.
Hiking Gear: Renting and Buying
You might not have everything from above list. It is okay. You can either buy or rent important gear such as sleeping bag from Kathmandu or Pokhara. I prefer shopping in Thamel, Kathmandu because you have lot of options.
Gear Shops
There are hundreds of hiking gear shops in Thamel and original stores such as North Face, Mountain Hardware. There are local brands such as Shonas and places with knock-off gear.
So there is no need to buy gear from your home. You can buy anything and everything from Thamel. However, be mindful about the knock-off gear. It may survive during your trek but it won't survive for a long time.
Buy non-essentials such as hiking poles, water bottles from knockoffs. Because there is less chance for them to break and it is cheap.
Do not buy Knockoff brands for your important gear such as Hiking Shoes, Hiking Bag and other essentials. You don't want your bag or shoe to breakdown while trekking.
Renting Gear
I am advising you to rent following gear since you won't be needing it for anything else. I recommend the shop "Shona's Alpine" since they are reputed for their local brand. The rented gear never failed me. But be ready to keep a deposit of 8000 NPR. Also, you will have to pay 50 to 100 NPR a day as the gear rent.
Down Jacket
4 Seasons Sleeping Bag with liner
Important Gear and Wear Advice for hiking Annapurna Circuit
Do not bring anything cotton to wear. Make sure that your base layers are made of non-cotton, wool or wool and synthetic material. It is important because wool materials have good wicking properties. It will take your sweat out fast and dry quickly.
Follow a layering system for clothing. You can control the heat by adding or reducing the layers.
Always cover your head with a hat, beanie or a piece of cloth.
Buff is super versatile when covering your nose, head or face when there is a lot of snow or dust.
NEVER EVER Forget your SUNGLASSES!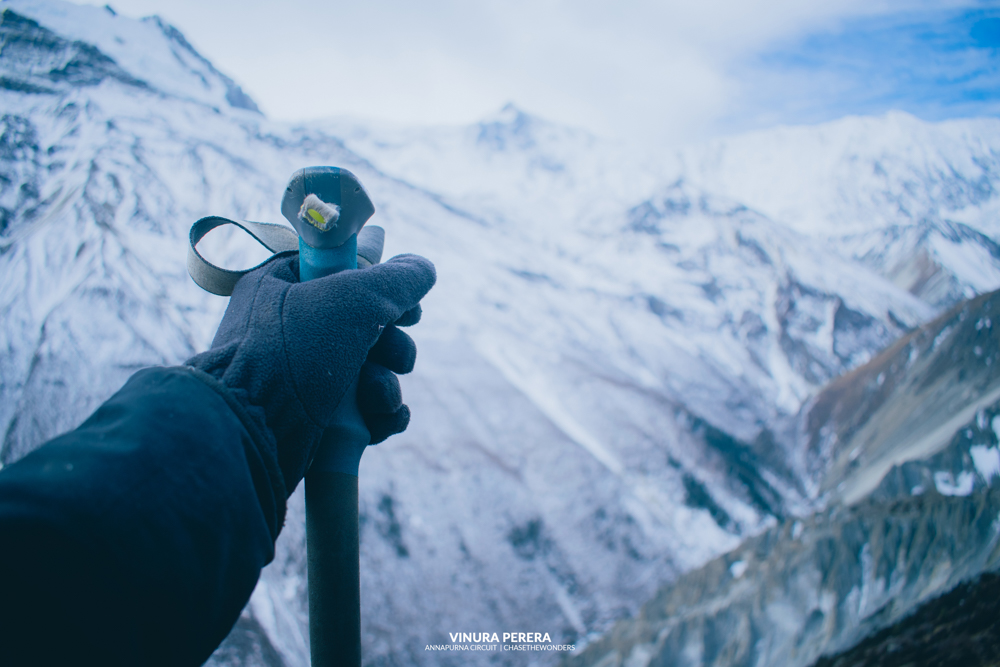 Cloth Layering System to trap/release the body heat.
Upper Body
Base layers: These are made of a material with high wicking properties(ex: Marino wool, synthetic wool mix).
Inner Shell: Normally a fleece jacket for the top. It will trap your body heat.
Outer Shell: This will depend on the weather. It can be a rain jacket, wind jacket or your down jacket.
Lower Body
Base Layer: You can wear wool based underwear and wool based long pants.
Outer Shell: This is typically a convertible hiking pant which you can convert to long or short accordingly.
Feet: I recommend using hiking boots if it is winter and have a pair of gaiters. Gaiters stop snow getting into your shoes. Socks must be wool based to avoid dampness.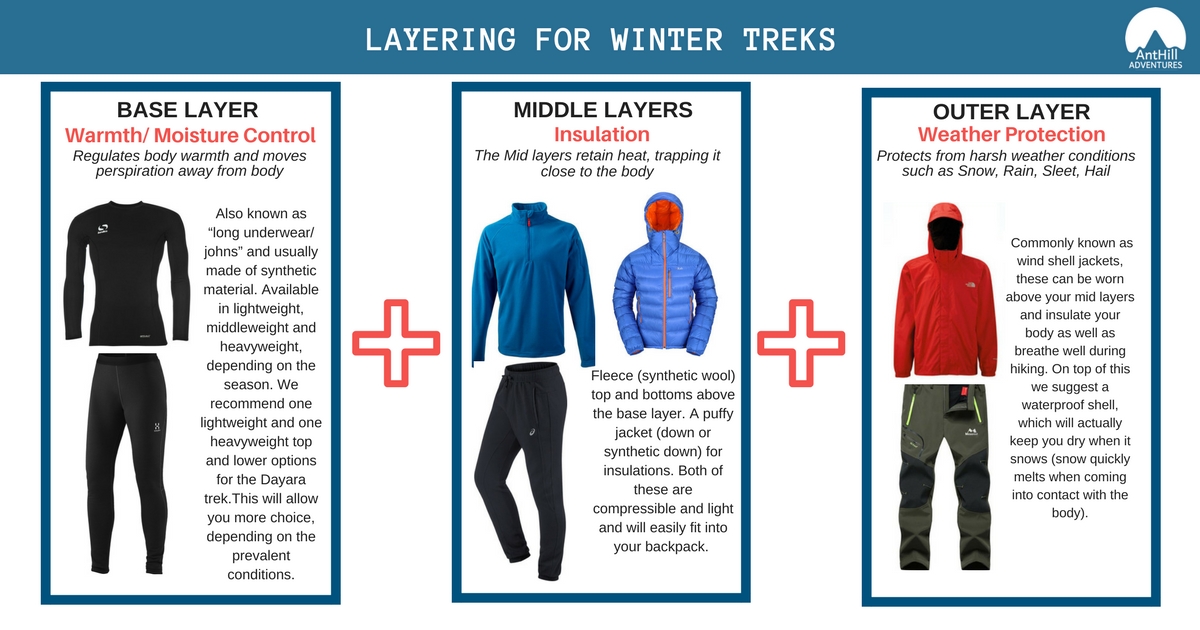 Sim Card for the Annapurna Circuit
There are two options in Nepal for Sim Card.
I recommend Namaste over NCell. I was able to connect to the internet and post a quick story on Instagram using Namaste SIM Card. Two of my group mates had NCell and their connection failed after the first few days. I was able to connect during most of the journey compared to them.
Itinerary for Annapurna Circuit
The following itinerary is for a 15-day hike starting from Besisahar and Ending at Jonsom. You can customize according to your needs.
Credits: http://mytravell.info
Also, keep an open mind about your itinerary.
If you are tired, take a rest day, If you have "HAS" climb down, If locals say you can't do the pass, listen to them.
The Hiking Route
First I urge you to buy a map of Annapurna Circuit. I used it more than I thought I would. The other thing you must have is Maps.me installed. It is an offline map that has the Annapurna Circuit Trail.
You can read more about the apps you must have for hiking here.
You must already know about road construction from Besisahar to Manang. The landscape is changing because of this. Yet it doesn't compromise the experience because there is something called NATT Trails.
NATT Trails
These trails take you off the main road and well marked with white and red strips. It takes you through small villages, small footpaths and forests. I recommend going on NATT Trails to avoid the dusty road.
You can find NATT Trails on Maps.me and NATT Trails guide. You can find old NATT Guide(2011) online for free.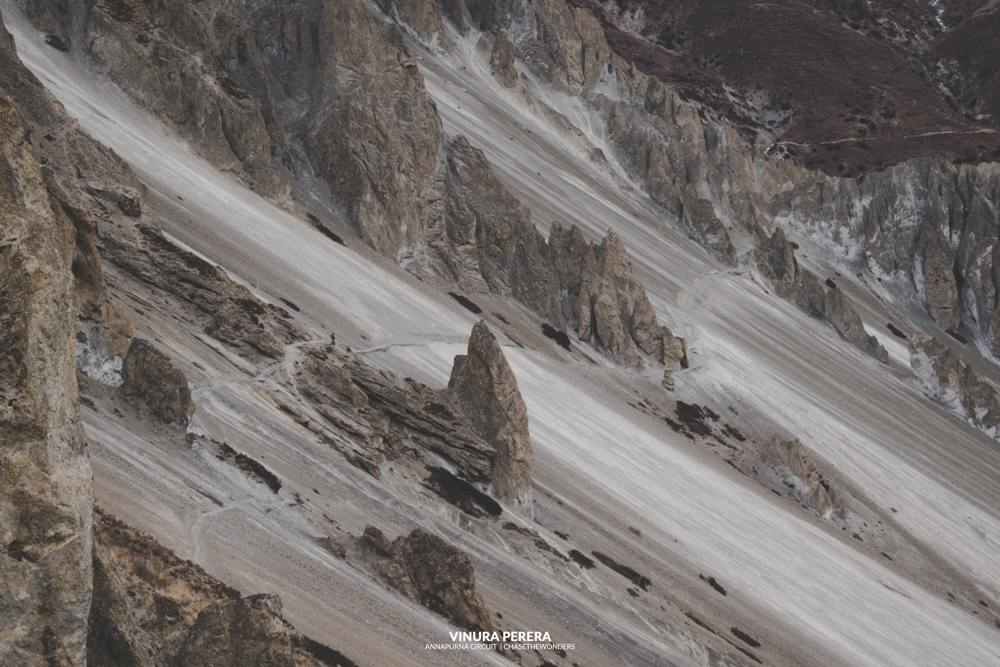 Getting Hiking Permits for Annapurna Circuit
You will be needing 2 permits.

1. ACAP
2. TIMS

These two permits can be easily obtained at Nepal Tourist Board, Kathmandu. You will be needing around 6 passport size photos and some cash as follows.
ACAP entry permit fee for foreigners: 2,000 NPR (Approx. US $20)
ACAP entry permit fee for SAARC nationals: 200 NPR
TIMS permit: 1,000 NPR (Approx. US $10)
Other than tourist board at Kathmandu, you can obtain these at Pokhara or from the checkpoint at Besisahar.
Transportation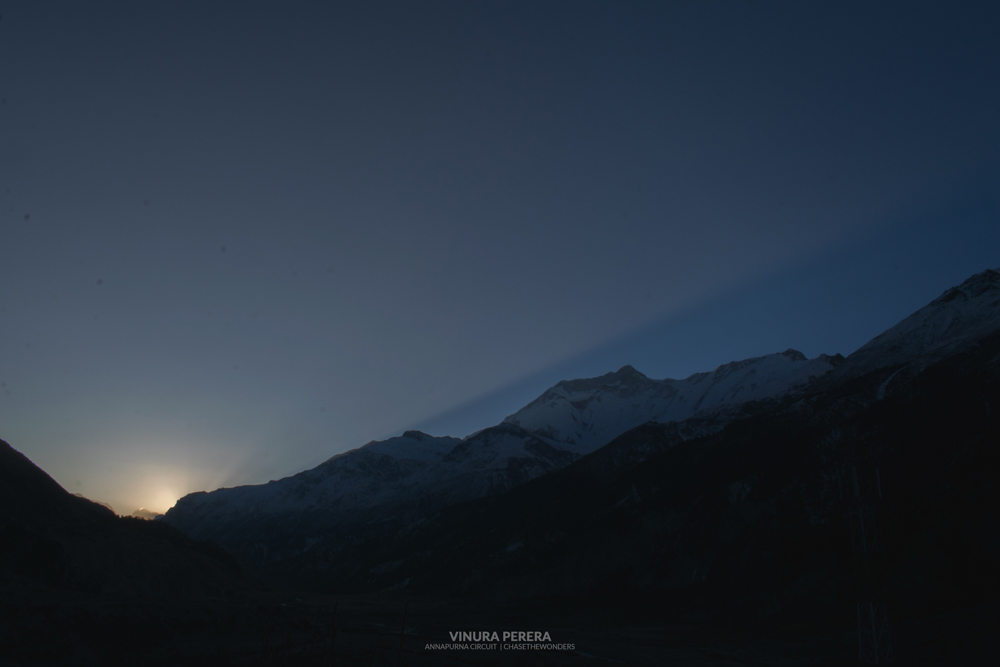 Getting to Besisahar From Kathmandu
Tourist Bus
8 hours, Pokhara Tourist Bus from Kathmandu to Dumre> MiniVan from Dumre to Besisahar.
You can book a seat on the tourist bus in advance (700 NPR). The bus leaves at 7 AM in the morning. There are many tour operators. I went to this place a day ahead and booked my seat.
IMPORTANT: When you are at Dumre, there will be people coming to you and offering to take you to the Besisahar in a cab for 5000 NPR. They will say that there are no minivans. That is a lie.
After getting down from Dumre (if you are coming from Kathmandu side), Cross the road and go to the other side. Then find the spot mark on the map which is where the buses are. Or you can ask from a shop. Do not listen to men who say "I have a cab, ready to go. 5000"
Private Cab
You can find cab services from Bandipur or Kathmandu. However, this is an expensive option.
Getting to Besisahar From Pokhara
There are direct minivans from Pokhara to Besisahar and vice versa. You can ask the hostel/hotel to for the directions or even book it for you.
Getting to Pokhara from Jomsom
There are two options according to my research.
MiniVan – Which is cheap(1000 NPR) but take around 10 hours.
Local Flights – Expensive but fast (8000 to 10000 NPR)
Checkpoints
There are several checkpoints along the Annapurna Circuit. Make sure that you check yourself in with these.
High Altitude Sickness while Trekking
I am no doctor to talk about this. However, I have done my research on this. Please read this article about HAS written by REI.
Identifying the High Altitude Sickness
If you have the following symptoms, you should reduce the altitude and rest. Also never ever go alone if you have HAS. TELL SOMEONE!
Nausea/vomiting
Fatigue
Lethargy
Loss of appetite
Difficulty sleeping
There is a medical centre at Manang that will conduct a lecture on HAS every day.
How to avoid high altitude sickness
Drink a lot of water and liquids
Locals say drinking Garlic Soup is good for acclimatization
Ascend slowly. No more than 500m per day after 3000m.
Rest a day or two at 3000m.
Climb high, sleep low. Doing side-treks such as Tilicho base camp or ice lake helps.
Take Diomax with you. This is not a prevention drug, so take it only if you have HAS.
Where to stay during the Annapurna Circuit Trek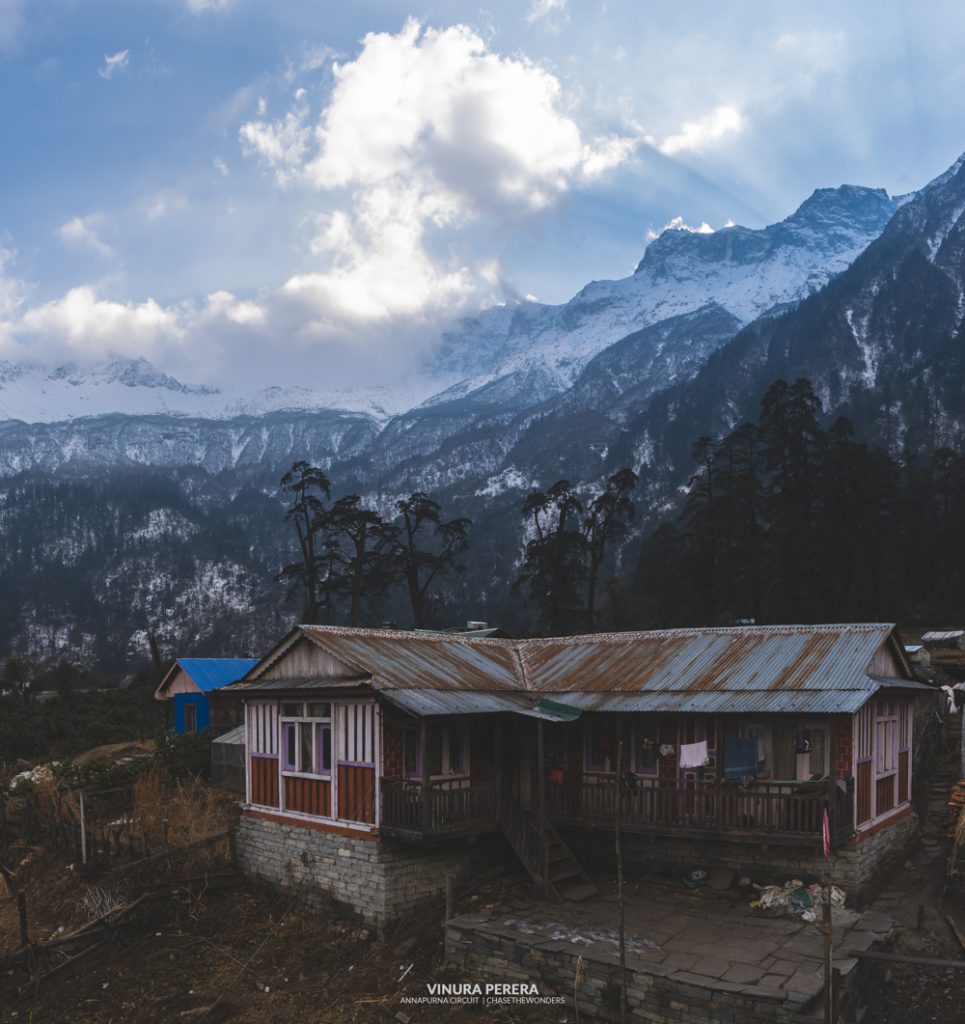 Annapurna Circuit Trek is a Tea House Trek. You will be hiking from one village to another. Once you reach a village you can find a lot of tea houses which offer food and accommodation.
In low season you don't have to worry about much. There are plenty of open tea houses. There are no facilities to book these tea houses in advance.
However, in high season these tea houses can be crowded and you might not find a place to sleep. So you might need to beat the crowd by walking ahead.
What to Eat during the Annapurna Circuit Trek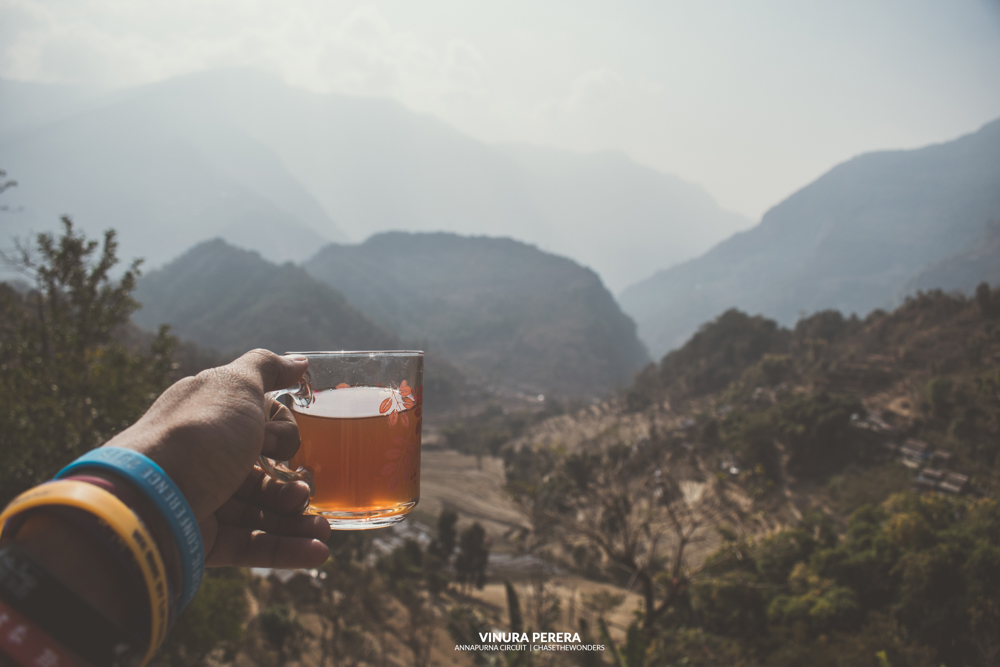 Your meal is important. You will have to walk 13 Km average per day. That is why you need a good diet. The following was my routine.
| | |
| --- | --- |
| Breakfast | Dinner |
| 2 Eggs | Dhal Bhat |
| Muesli/Oats with Apple or Banana | Garlic Soup |
| Bread(sometimes) | |
| Glass of Milk | |
Lunch
Something light
Fruits/Snickers/Tea
Granola bars
I was relying on good heavy breakfast and a heavy dinner. Therefore I didn't spend much money on lunch unless I am hungry.
Dhal Bhat : This is a carbs heavy rice meal with vegetables
Pro Tip: Take peanut butter and granola bars with you. You can buy bread from restaurants and eat with peanut butter. This will cut down your cost.
Drinking Water during the Annapurna Circuit
You can buy drinking water bottles. BUT DON'T! It will only increase the number of single plastics.
Have your own water bottle and fill up from a restaurant and use water purification tablets.
After 3000m I just drank from the water steam because it is close to the source. Nothing happened to me. However, do it at your own risk.
Budget and Money for Annapurna Circuit
I am not covering the cost regarding flights and gear. This section only covers the cash that you need during the trek. The other costs will be depending on the gear you have and what you need to buy.
Per day Cost Breakdown
This is a rough breakdown of total cost per day in Nepali Rupees.
| | |
| --- | --- |
| Item | Cost |
| Food (400*3) | 1600 |
| Tea/Snacks | 200 |
| Other | 100 |
| Lodging | 400 |
| Total | 2300 |
It will cost around 34,500 for 15 days.
Pro Tip: Try to negotiate down the price of accommodation to Zero by promising them to buy breakfast and dinner from the place where you stay.
What are the extra costs to be expected on Annapurna Circuit
Hot Water, Yes when you go up you will have to pay for hot water showers(NRS 300) and hot water glass(NRS 50) to drink.
Internet, yes if you want to rely on the wifi, you will have to pay.(NRS 400)
Charging, After Manang, they charge you for this. (NRS 300 per Hour)
Alcohol and Rest Day Treatments
Laundry
How much money you need for the trek
Remember that there are no ATMs along the trek. You can find one or two here and there. However, those are not reliable. Therefore take enough cash with you.
I suggest taking 50 000 Nepali Rupees ($450) with you. This will be more than enough.
Be Prepared for Anything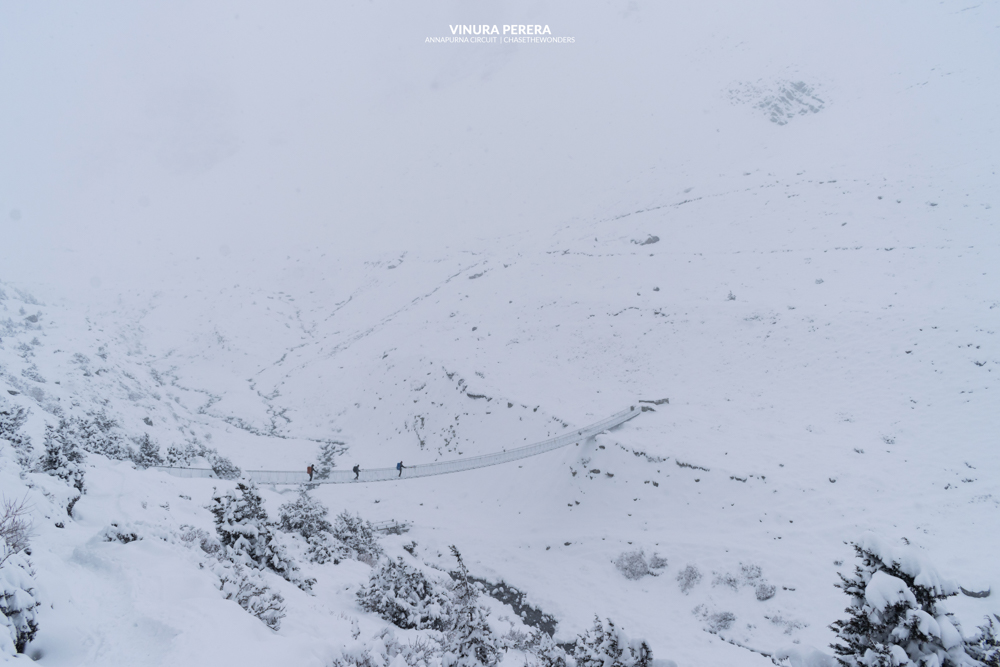 Annapurna Circuit is a 4 Seasons hike. So get ready for all 4 seasons.
Do your research.
Respect culture. Saying "Namaste" won't hurt you.
You can start the hike from different points to avoid the dusty road. Yet you will miss somethings like beautiful waterfalls.
Reduce your waste. Don't leave any waste, collect them and dump them at a restaurant.
Listen to your body. Be mindful.
Be prepared for unexpected situations like high snowfall. Remember if you can't go forward, you can turn back.
Don't forget to enjoy <3.
"Climbing is optional, Coming back home is mandatory"

Jayanthi Kuru-Utumpala , 1st Sri Lankan Everest Summiter
Personal Note: I had to turn back with my team on the 13th day of my hike. It was after hiking 125 km. This happened on the day that we planned to cross the Thorong La Pass !. I did turn back because I remembered above. Snowfall was too much that the locals at ThrongPedhi refused our money when we asked to take us over the Pass. The other two groups who had guides turned back. We decided to turn back.
I hope you would have a WONDERFUL TREK !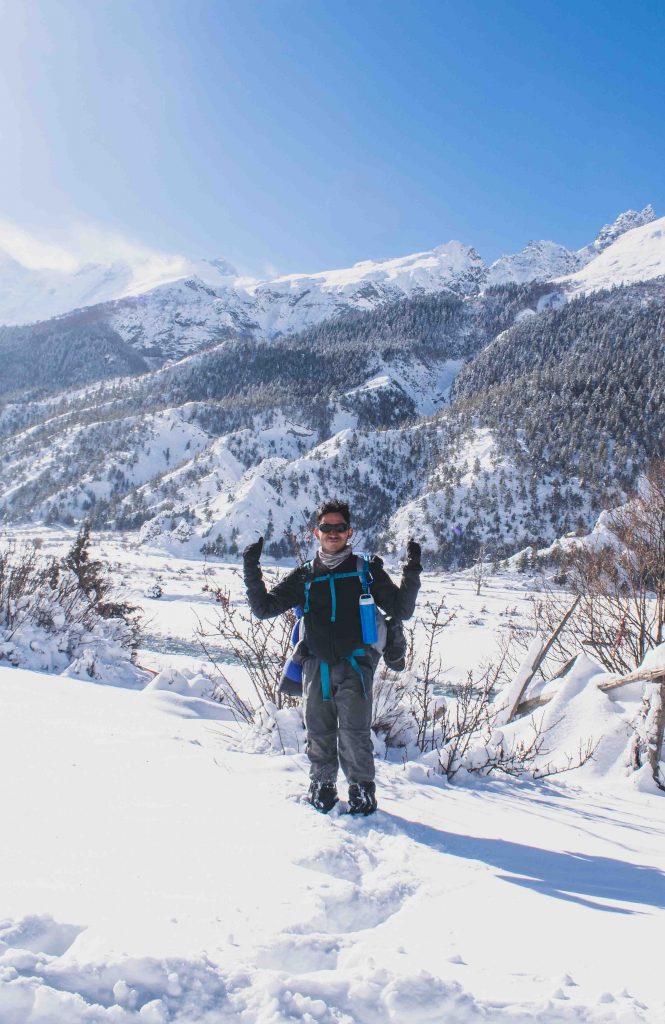 Since you are here, I have a gift for you. I created this Annapurna Circuit Planner, A google sheet that you can customize accordingly. Enjoy!

Vinura Perera
More Annapurna Circuit Resources