A day filled with Smiles, laughter and Good Vibes even though I was among bunch of strangers
When I first saw "#WWIM15SriLanka", sad memories of 2016 resurfaced. I remembered how I wanted to attend the 2016 event but only managed to end up staring at @Amalini's pictures. This time I was determined to meet the community of people who 'walked and took photos'. I wanted to network with a bunch of like-minded people who travel often.
Tripod, Camera, Shades, Phone and Wallet were packed and I was ready on a blazing hot Sunday.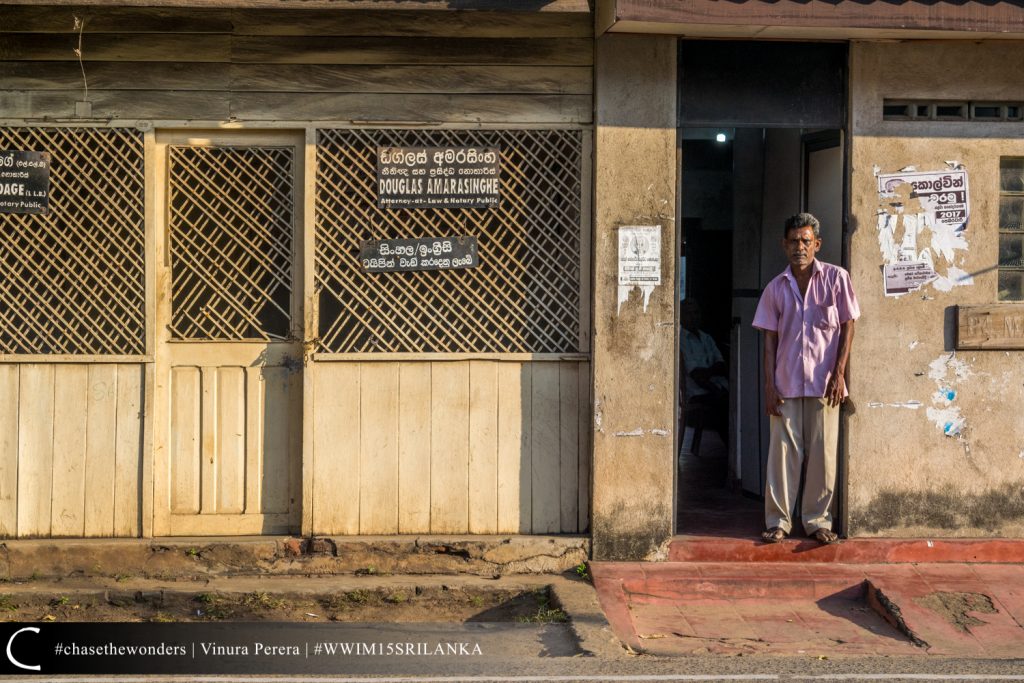 Like a lone wolf, I walked into the SLTBB while looking for people with cameras. To my luck, I saw a familiar Nikon shirt. Slowly and Nervously (Given my introverted nature) I approached them. "Are y'all the Instagram meetup people?" were the first few words that came out of my mouth.
All of them were welcoming cheery and enthusiastic. On a normal day, I wouldn't have talked as much and instead would have remained silent till I was familiar with them. But with this bunch that was never the case.
"Small things Matter"
I was given two pin badges, a heart and a camera, as a welcoming gift. It made an impression that lasts a lifetime. Then came a boring bus ride to Negombo. Hot Blazing Sun, Shades on !!! Because that's the only way to survive.
I stepped into our lunch place for the day and looked around to spot a place to sit. There were two girls and a guy. I slowly walk to them and simply asked: "may I ?". They were another set of people I met that gave good vibes. @hashiabey (Check out this person amazing photo blog!! You will love it) @adiddas456 and @kalharadasun. These people never let me feel that I was with a bunch of strangers (given the fact the actually were complete strangers).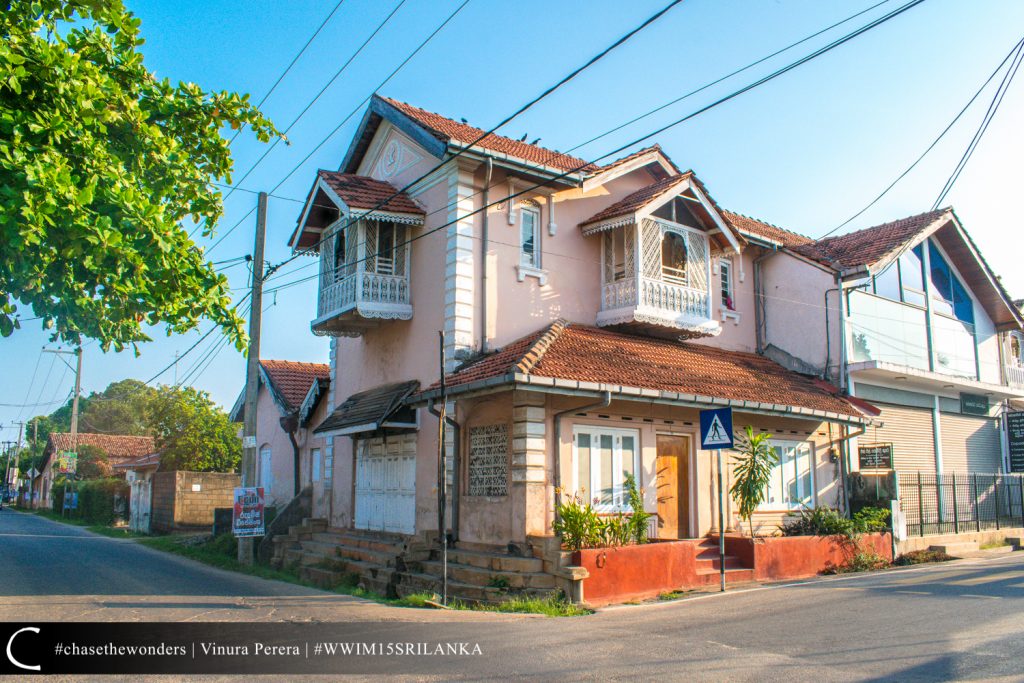 After all of this, WORLDWIDE INSTAGRAM MEETUP 15 SRILANKA was started !!!. I started walking along the street with a cool bunch of people who wore shades and had cameras in hand. As a Group, We got a lot of attention. Each and every villager who passed by stared at us. For a person who likes to blend in with the crowd like me, this was a new experience.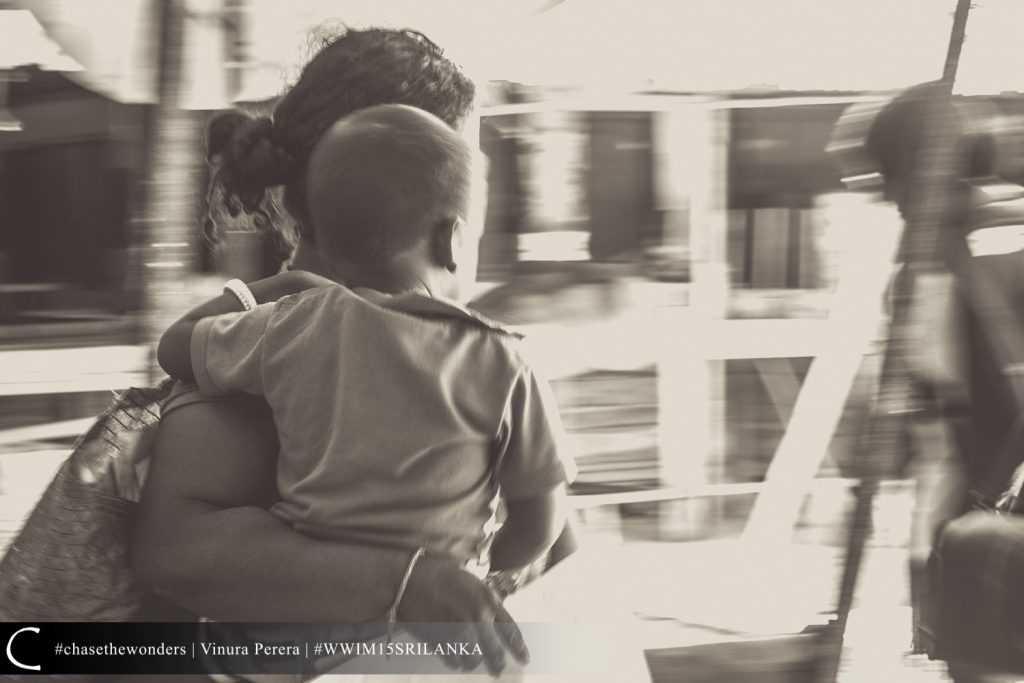 The theme for the day was "KINDNESS". It was hard to photograph moment like that, mostly because I was late.
Our photo walk was one of a kind. Amalini was leading in front while we were walking far behind. I vividly remember the moments like Adhila trying to rotate Hashinika's face to take the perfect shot with sun rays behind, Hashinika precariously crossing the road while 100s of vehicles sped on.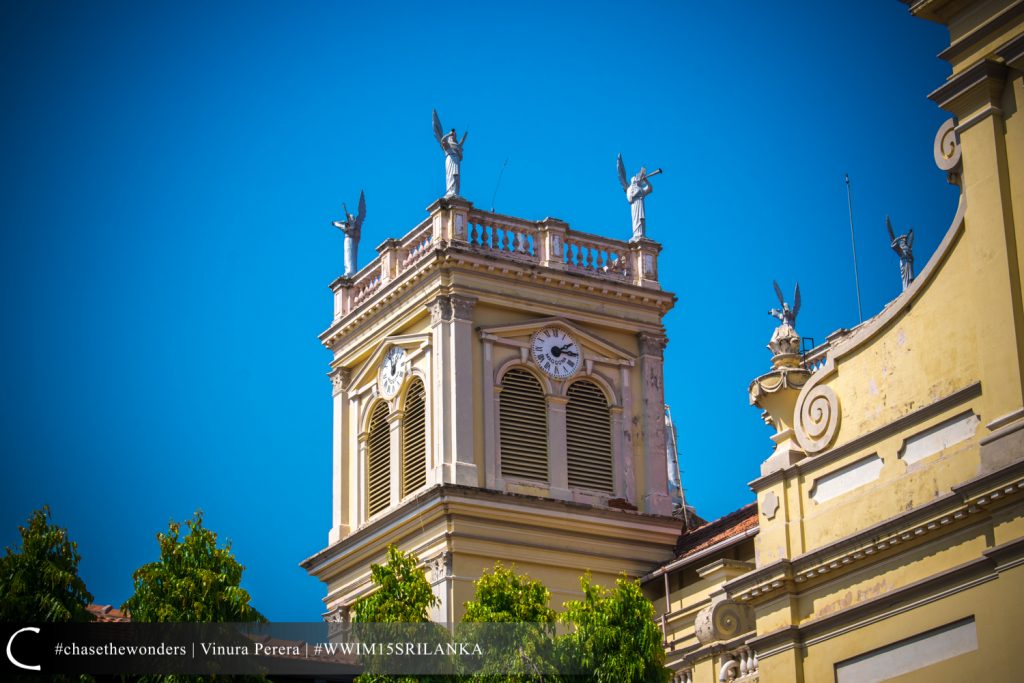 The first stop was St. Marry's church. Since it was during Sunday midday. Only a few people were on the grounds. I found a lot of people with fewer means were taking shelter there. It felt guilty to photograph them. After a while, i gave away few bucks to them.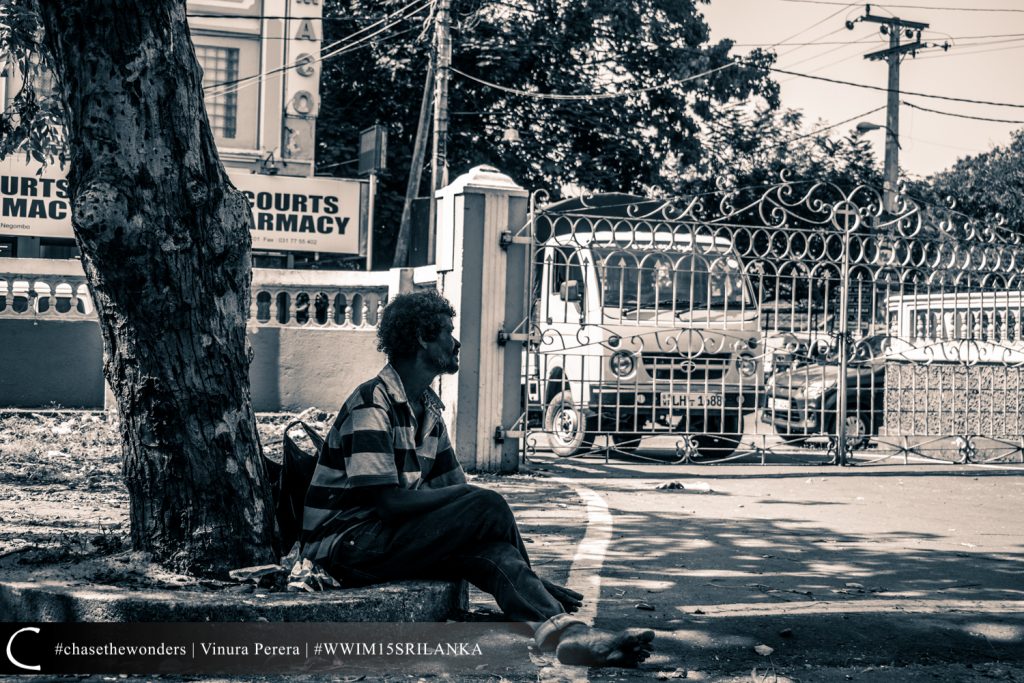 The next stop was the Sunday Market which was filled with vibrant colours. It was chaotic. Each and every very vendor was shouting out loud to draw attention to themselves. Within the midst of this havoc, A Firebender emerged and breath fire out of his mouth like a Dragon. We were dazzled and amazed. I was scanning through the market in order to find that one specific shot. A mother with her child, An elderly woman with vegetables and sarees with vibrant caught took my eye.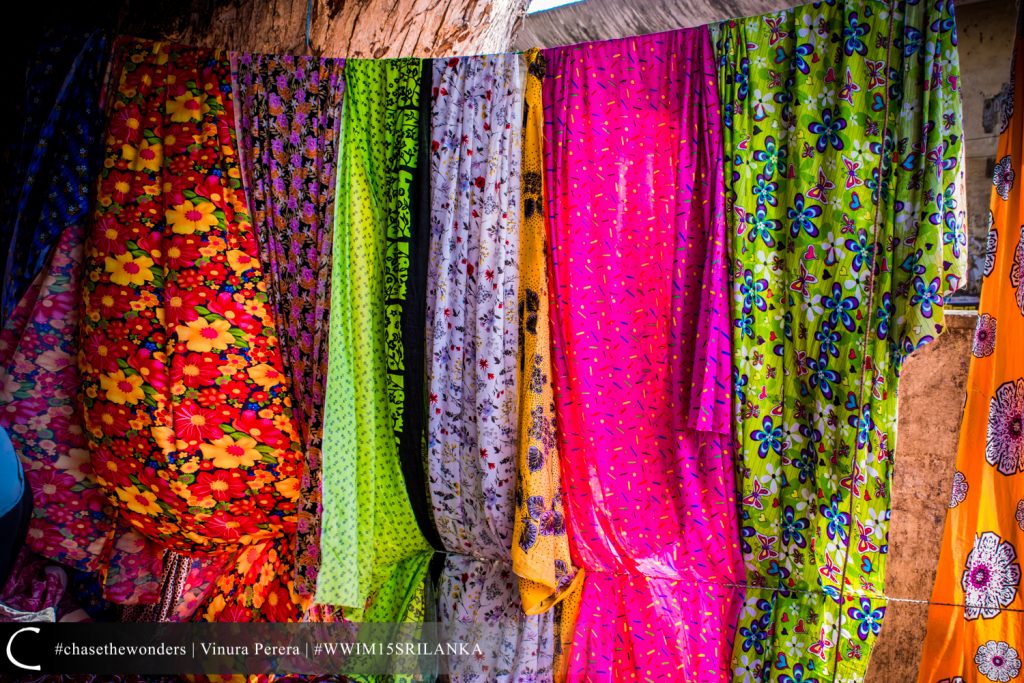 Then All of us were back on our feet heading towards the lagoon. It was filled with boats with different designs. Some were painted blue while some were purely green or yellow. The patterns above them were quite interesting. Among those patterns, an eye of a fish, sea waves and name of the boat took my attention.
Next, I was standing next to a lot of dry fish laid on the ground, much like a silk saree that has a fish pattern. Midst of these there were kids of fisherman happily playing with a regiform ball. Their mother was keeping a keen eye on her kids and making sure that they don't mess with the dry fish.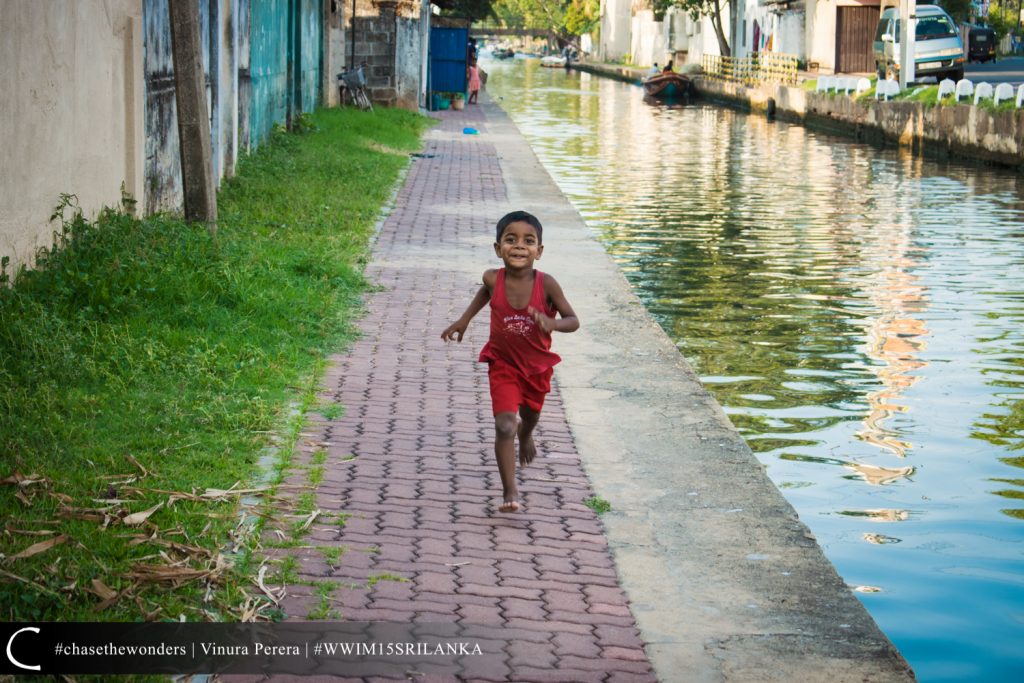 The walk along the canal was one of the best parts of the day. It allowed me to exercise my photography skills as well as feel the breeze. Small kids were running here and there along the canal with happy smiles. I was able to photograph one of the kids who came running towards me, looking directly at the camera with a big smile. It was a satisfying moment.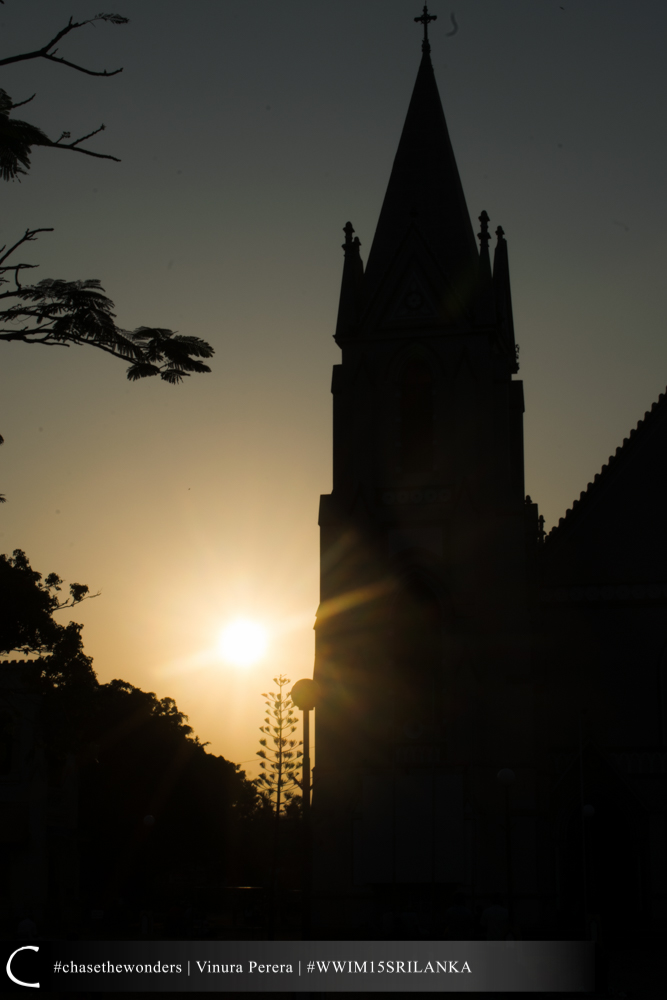 Whole group headed to Beach. On our way, I was able to capture the sun that was gorgeously setting into the sea behind the church.
Beach session was the last stop. Many ran towards the sea, there were a lot of chatter, laughter and smiles. All the WWIM folks were eagerly waiting for the sun to set in order to capture that perfect moment.
Here, Selfies, Portraits, Landscapes came to life.
But for me, It was the people that I met that made my day. Who never let me felt like I am in a midst of strangers.
Until next time #WWIM15SriLanka.
SLTBB > Negambo > Lunch > Walk through Streets > Church > Market > Firebender > Lagoon > fish dry area > Streets > Canal > Church > Beach