Freezing wind, breathtaking landscapes and a 360° view sounds like the perfect match. Havgala with all those perks is a dream of any hiker and it is waiting for you to conquer.
Getting There
From Colombo you could take 99 Badulla Bus and get down from Belihuloya or nearby town Galagama. It's a three and half-hour ride from Colombo.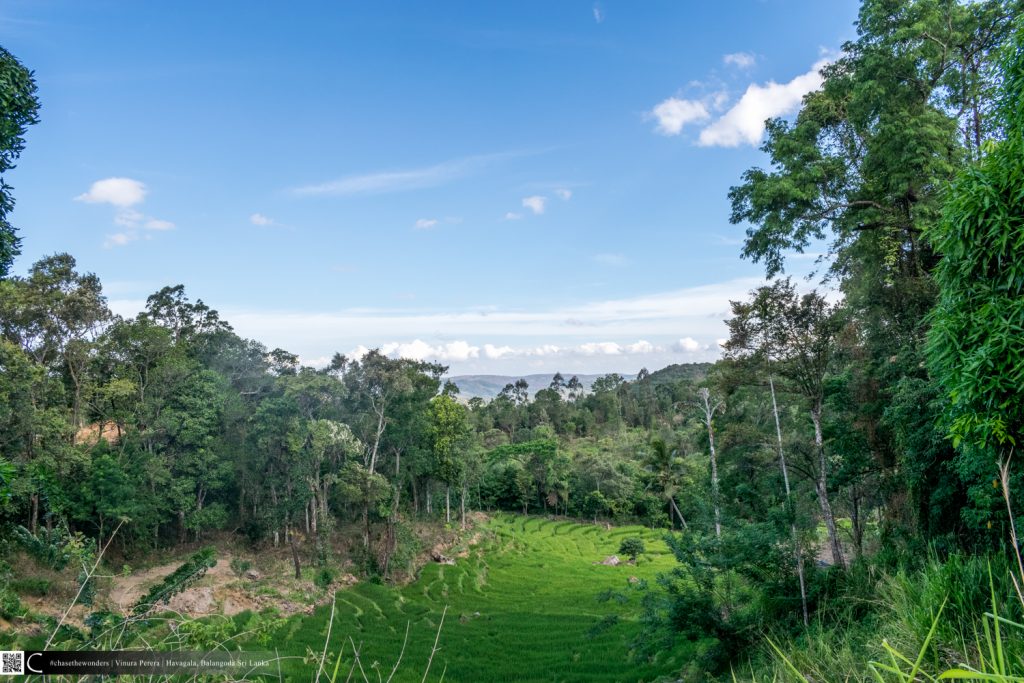 After getting down from Belihuloya/Galagama, take Laduyaya bus to reach Laduyaya junction where the trail starts. The journey from Belihuloya to Laduyaya is through a beautiful path surrounded by high mountains and green paddy fields that you could stare at for hours.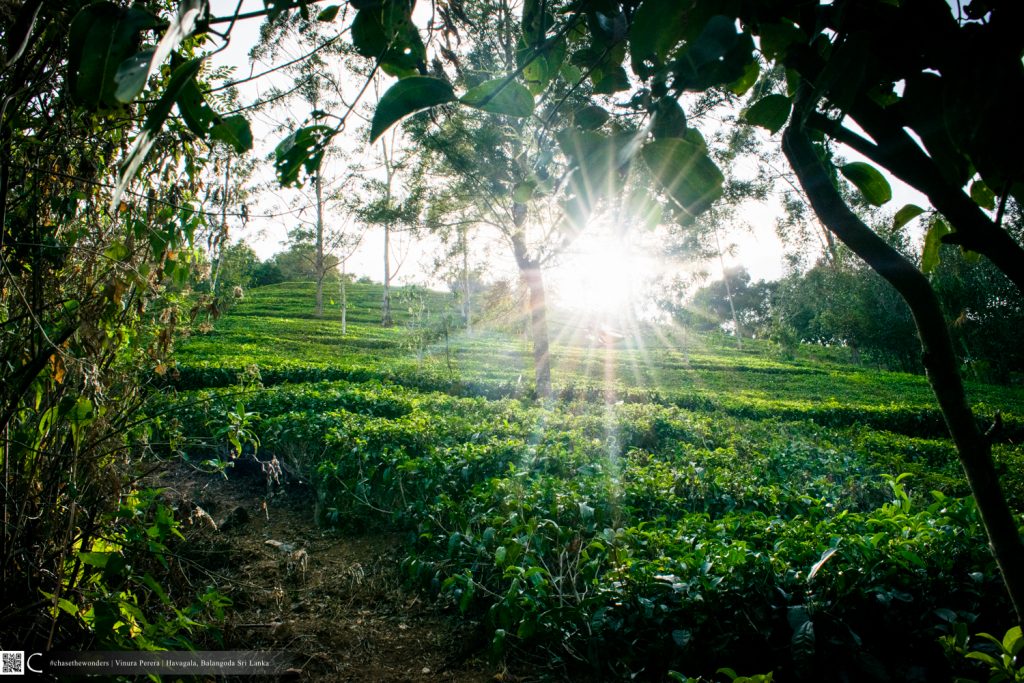 Lunch and Shopping for Camping
There are few good places to have lunch such as Pearl restaurant at Galagama town or you could take your pick from any of the other hotels near the area where it would cost you around Rs.500. There is a small grocery shop near the entrance of trail where you could buy all the food, water and kerosene oil, but if it's a poya day, make sure you buy everything from Galagama Town.
Entrance to Havagala Trail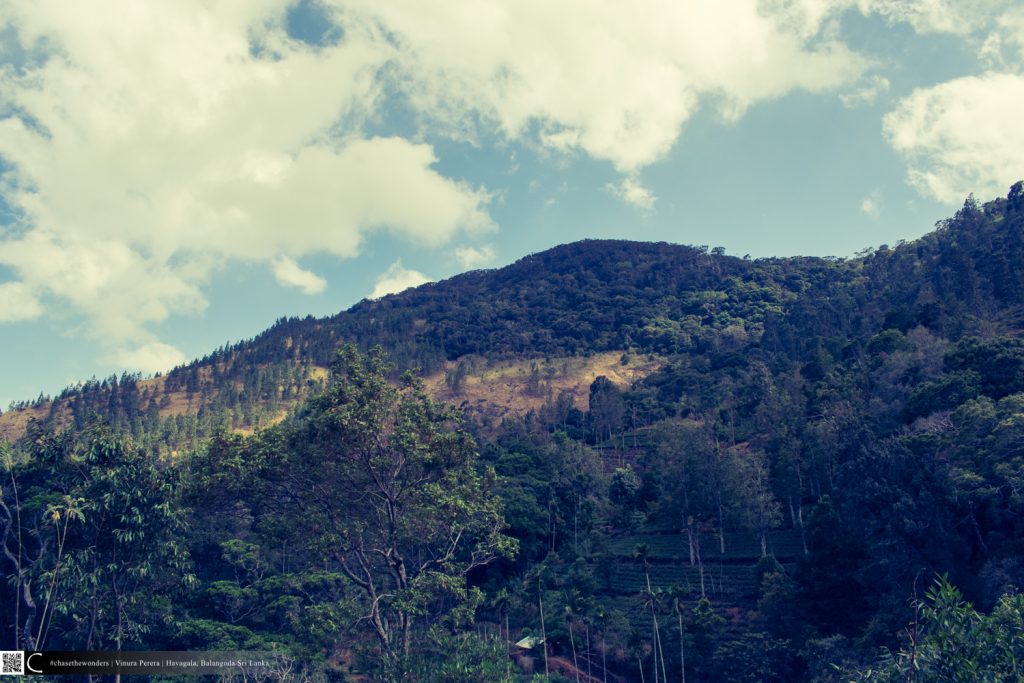 Laduyaya, A village that was hidden from most eyes of urban men, is filled with friendly villagers with a sense of great hospitality. Simply ask from a villager to point you to the trail and they would happily show you the entrance and also some might offer you to be your guide, and if you are not an experienced hiker I recommend taking a guide because you could easily go off the trail and get lost, also don't forget to give them something in return :).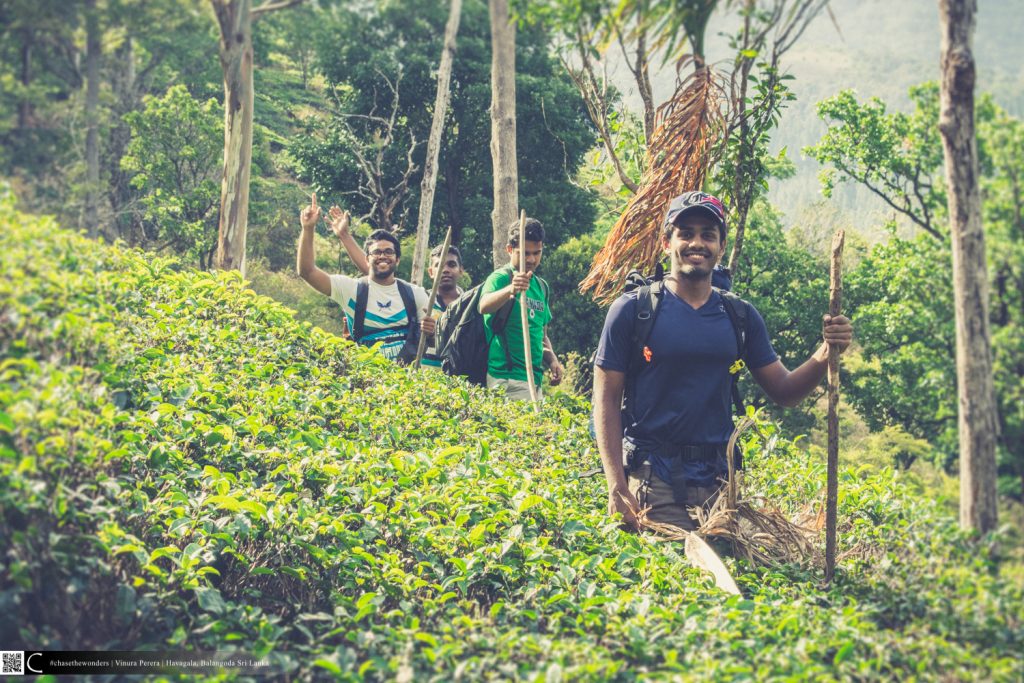 Since I was there with 5 experienced hikers who were my scouting batch mates and I had professional GPS app and coordinates in hand, we decided to find our way to Havagala. On a personal note, this was the first time that I used GPS coordinates & a GPS app while on a hike.With a chilly feeling in stomach and GPS in hand, we stepped into the unknown territory of Havagala.
Off the track and Getting Lost
After leaving the trail we entered a forest with tons of trees and nothing else. One point we felt like we were lost in the middle of a jungle. Luckily for us, the GPS coordinates came to our rescue. We head in the direction which the coordinates pointed to and somehow to our luck, reached the path on top.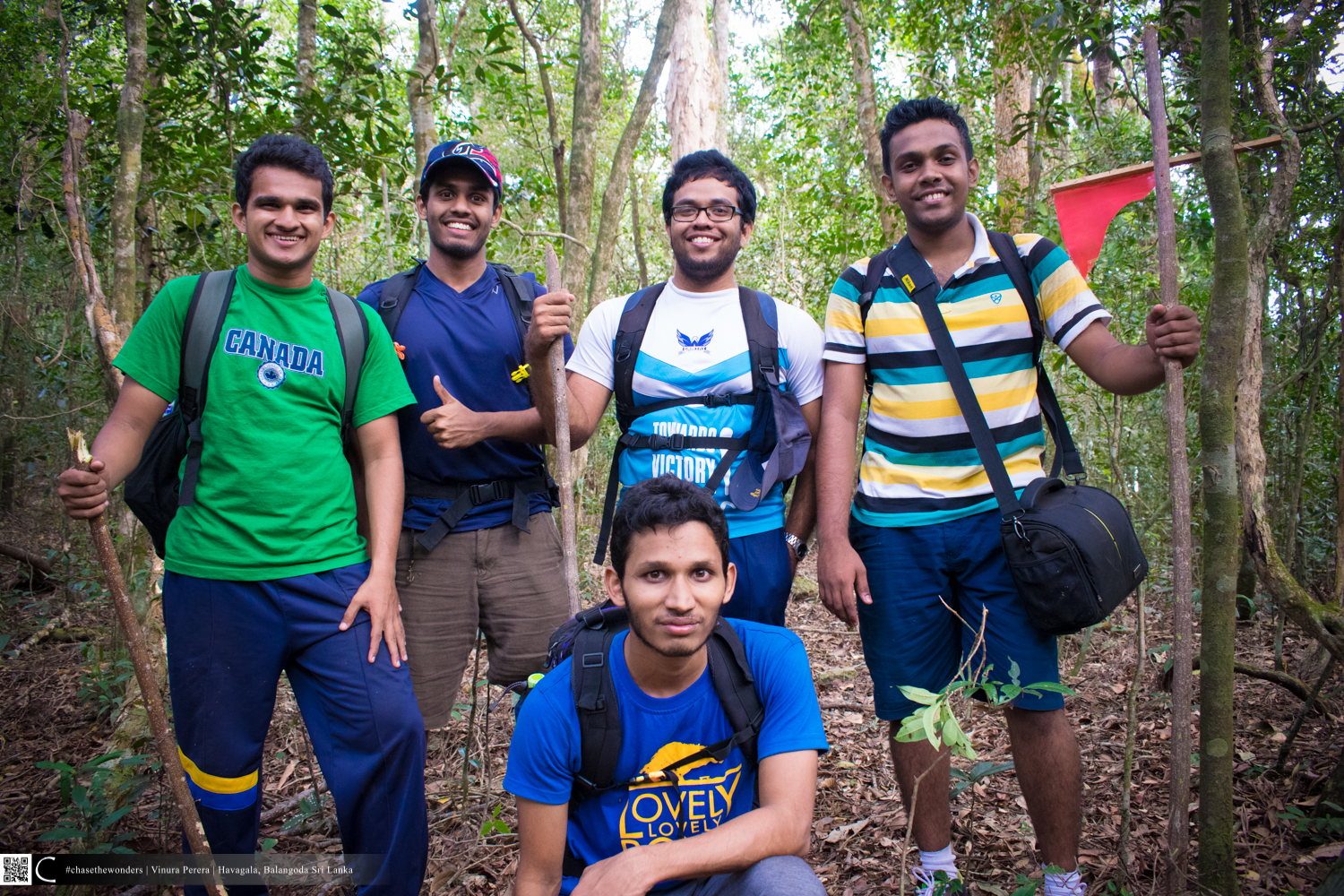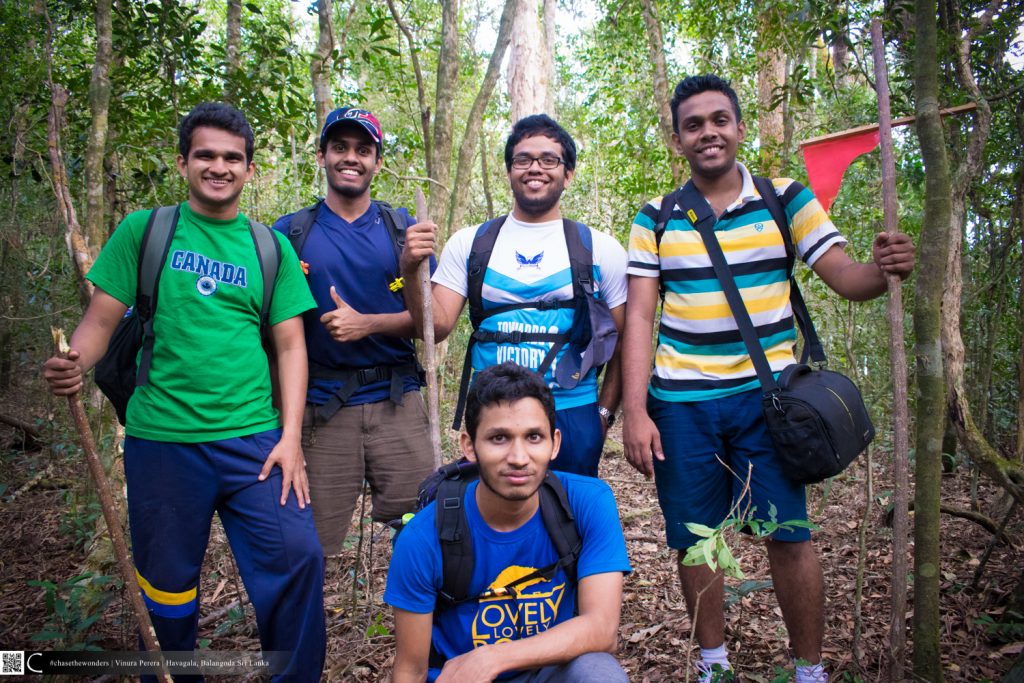 The path on top was marked with red flags leading towards the summit. we follow the flags until we reached the open area with a stunning view ❤. The journey from there to the Havagala summit was much like a dream. Wind blowing off your tiredness a gorgeous sunset that you could stare at for hours and breathtaking landscapes under a coral-hued sky, truly the dream of many.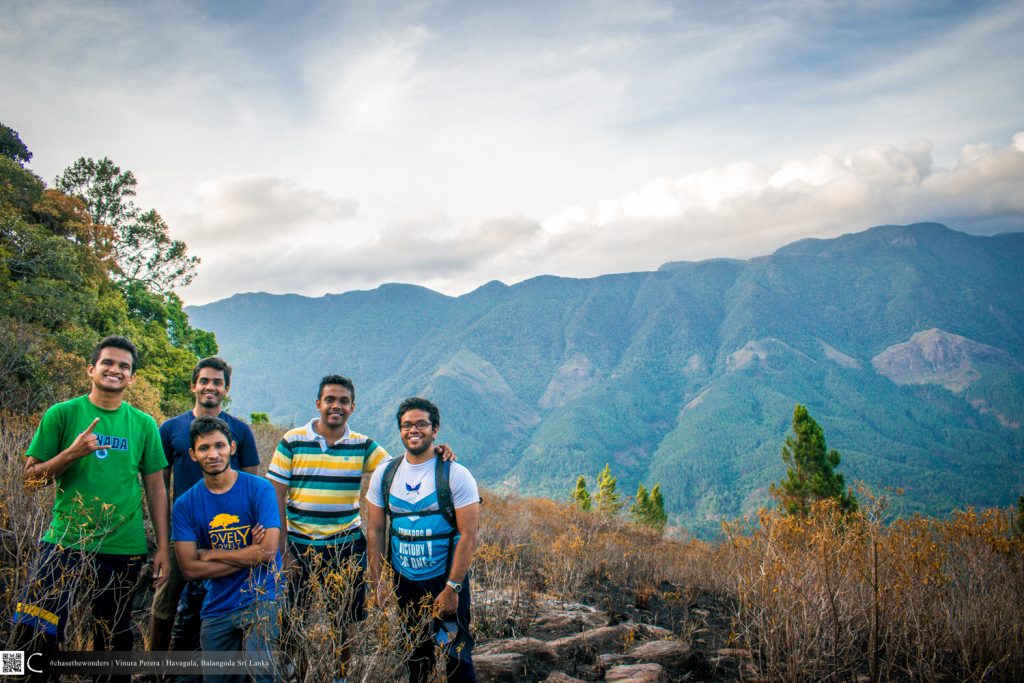 The feeling that you get after reaching the Havagala summit cannot be put into words. The 360° view that blended with sunset takes your breath away.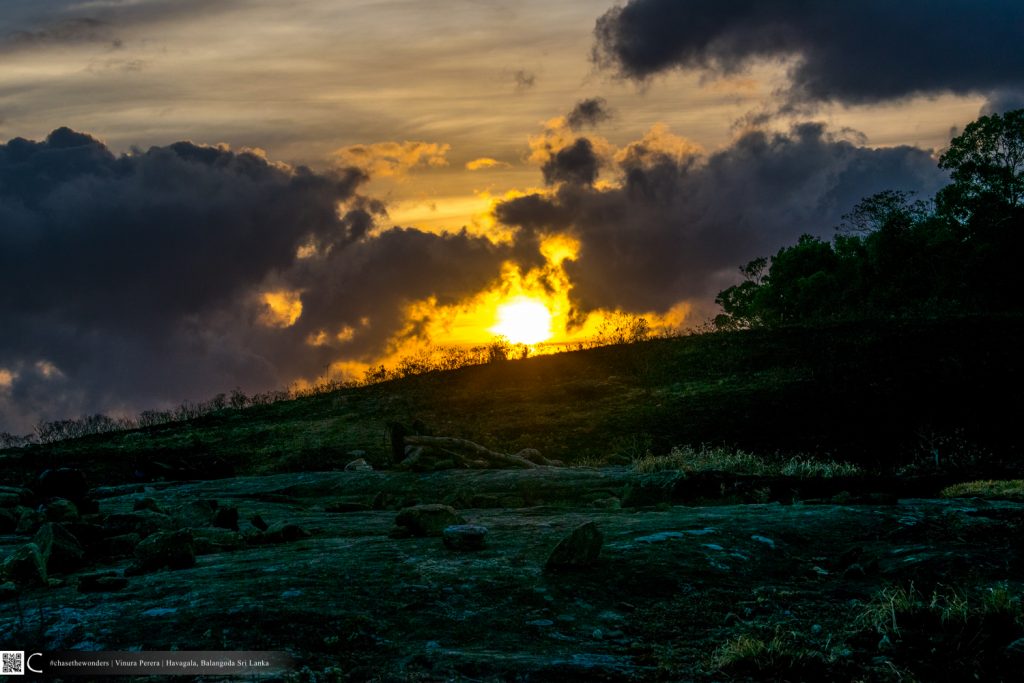 Pitching Tents and The Havoc
"Well being a photographer means your first move is to pitch tent towards the edge of the summit so that you could take some amazing clicks but alas the wind is now working against your wishes and suddenly you realise that it's not the place to pitch your tent. "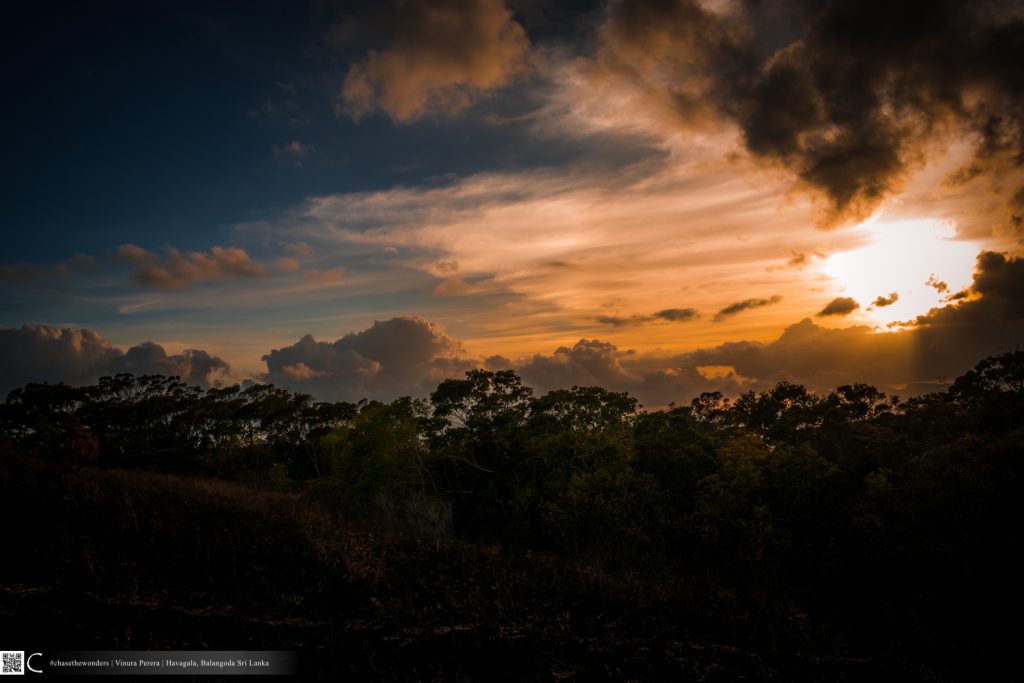 After that havoc, we pitched our tent near the forest which did a fantastic job of blocking the wind from two sides. We then settled down.
Dinner, Campfire and Moonlight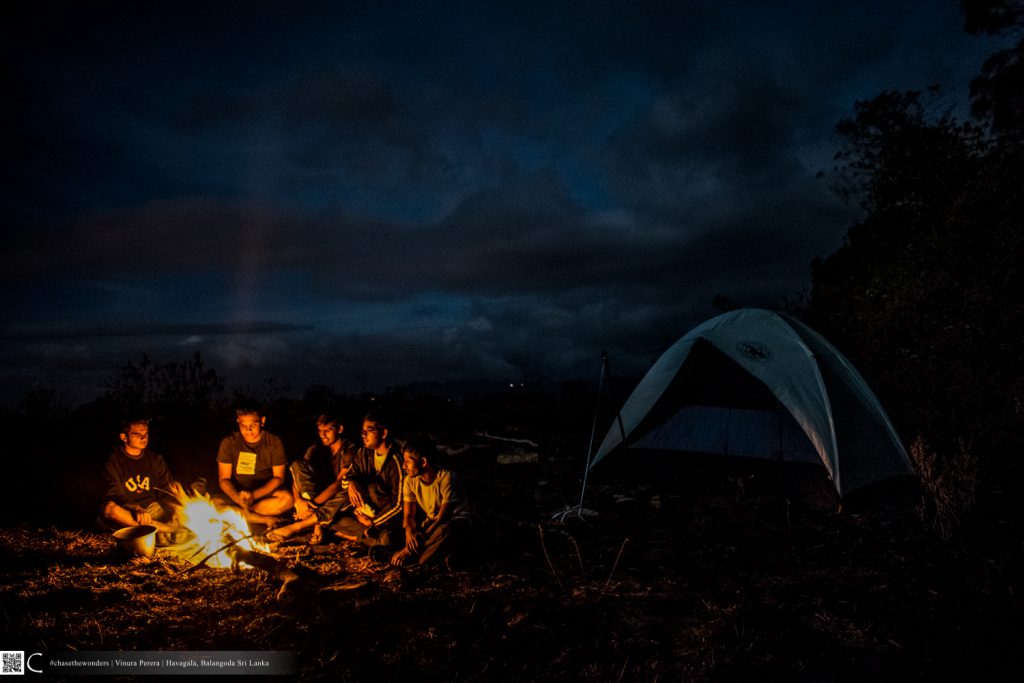 Camping under the moonlight for the first time was one of the best moments. With the friends that I have known for 7 years and all those memories rushing back from the days we ruled the scouting troupes. From singing to telling old stories it was just a perfect night around the fire with a cool breeze making you step inch yourself towards the fire just a little bit more.
Waking up to freeze your mind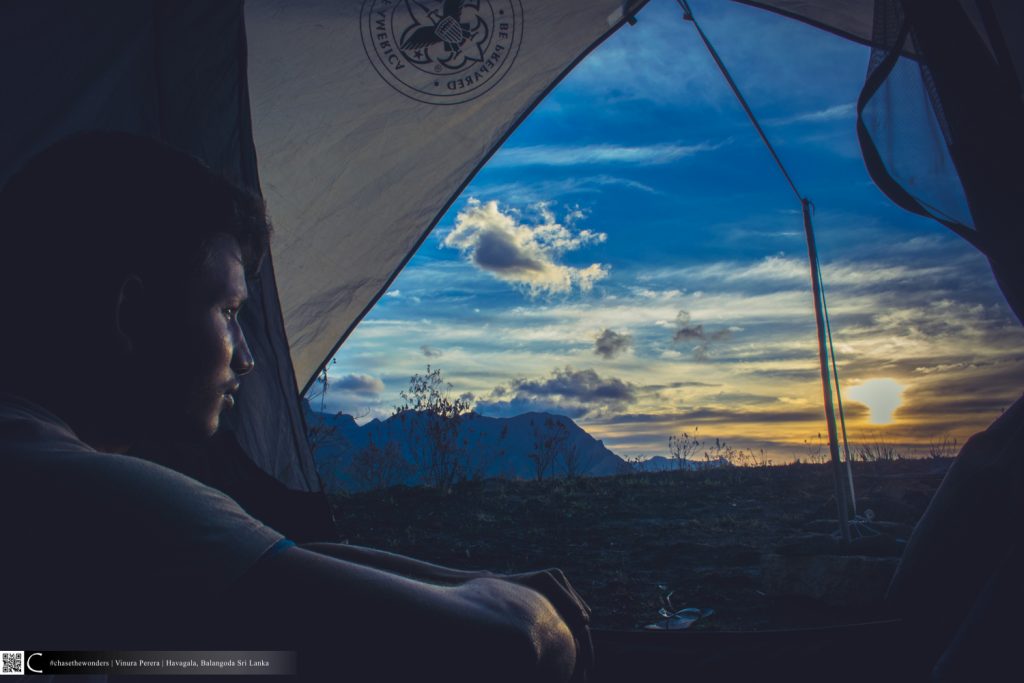 This is the favourite part of any hike to me. Sunrise, the stunning view from the Havagala make you forget about the world you live in, filled with concrete. Opening the tent door feels like you just discovered a portal to a new dimension ❤.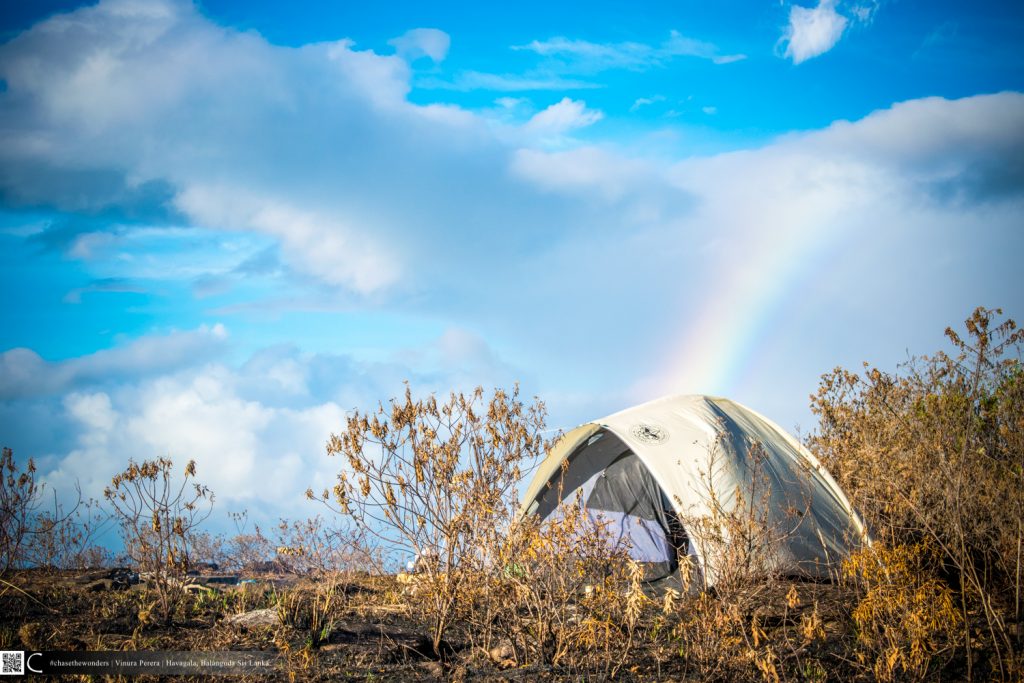 And lo and behold!! An added bonus, a rainbow, full view of it, we were lucky to witness it.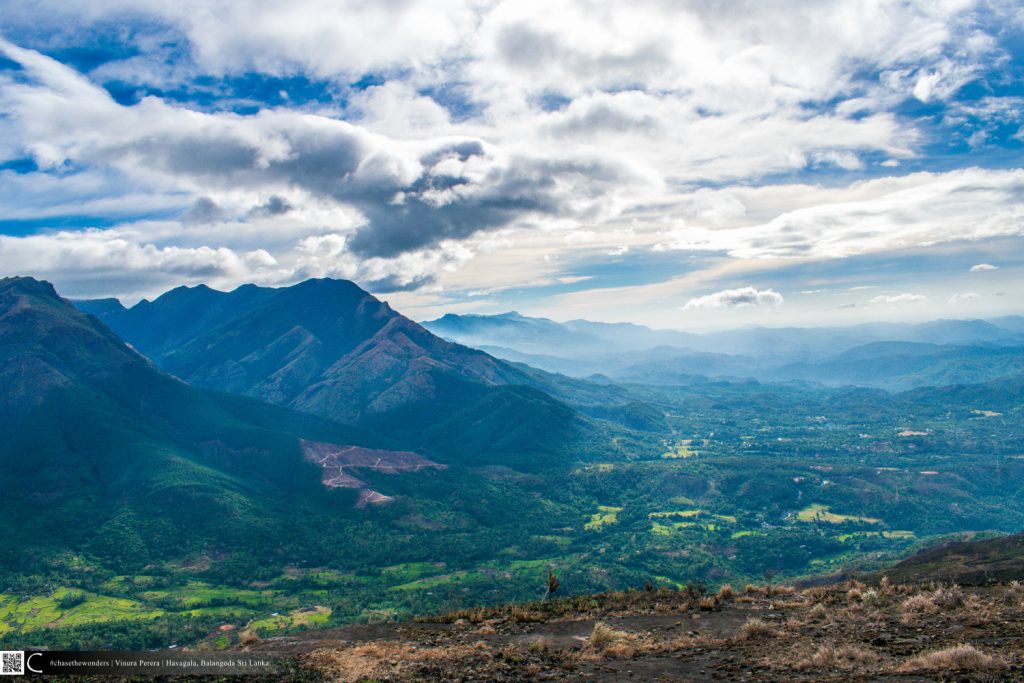 After the breakfast with all our might, we packed and started climbing down along a new path. Once again due to our curiosity we decided to wander off the path and climb down towards Belihuloya using GPS.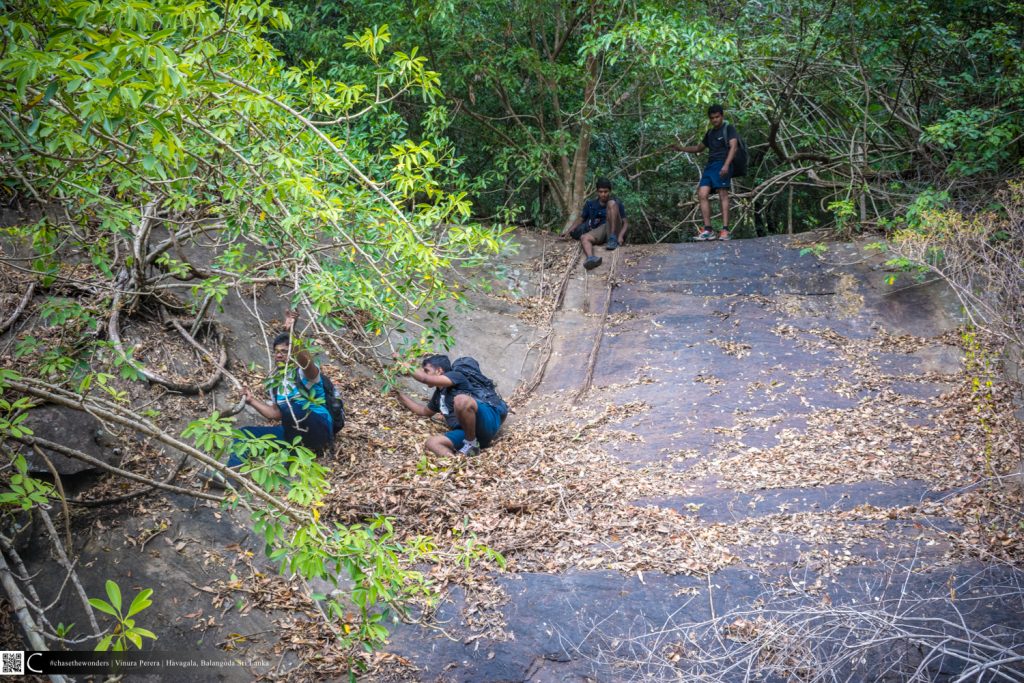 Well, it was difficult and sometimes felt like it would be impossible to climb down from steep ascents along a path filled with small trees. It truly was an adrenaline filled hike.
Finding the Heaven and Leaving all it Behind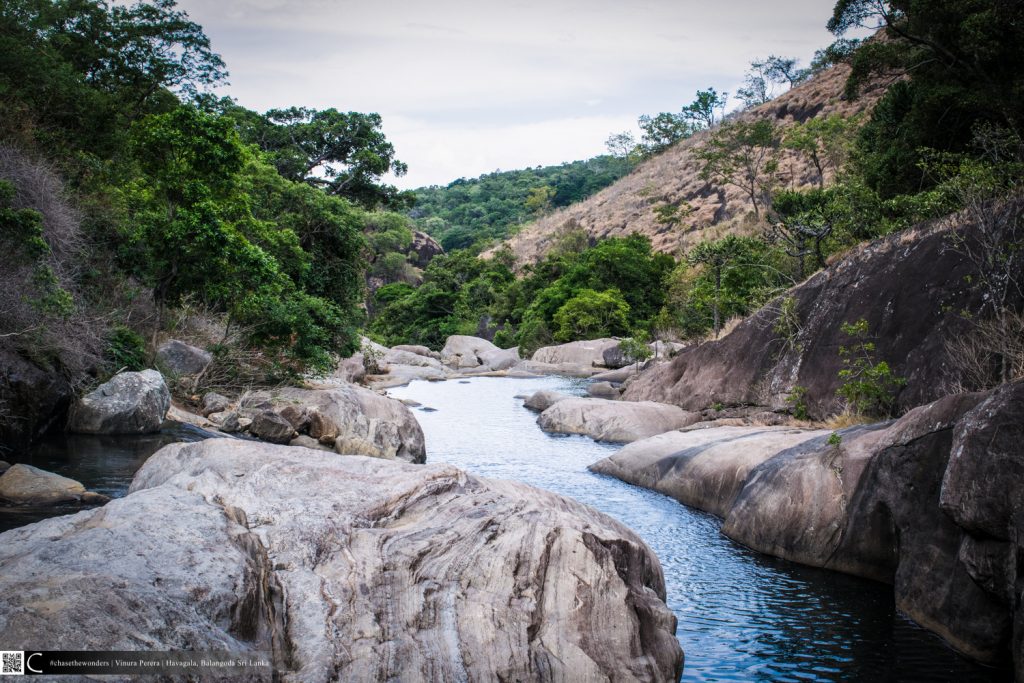 "Difficult Path Can Lead to Amazing places"
Truer words…., After a hike filled with much difficulties we arrived at a part of Belihuloya untouched by human hand, completely hidden from tourists and so much more beautiful ❤.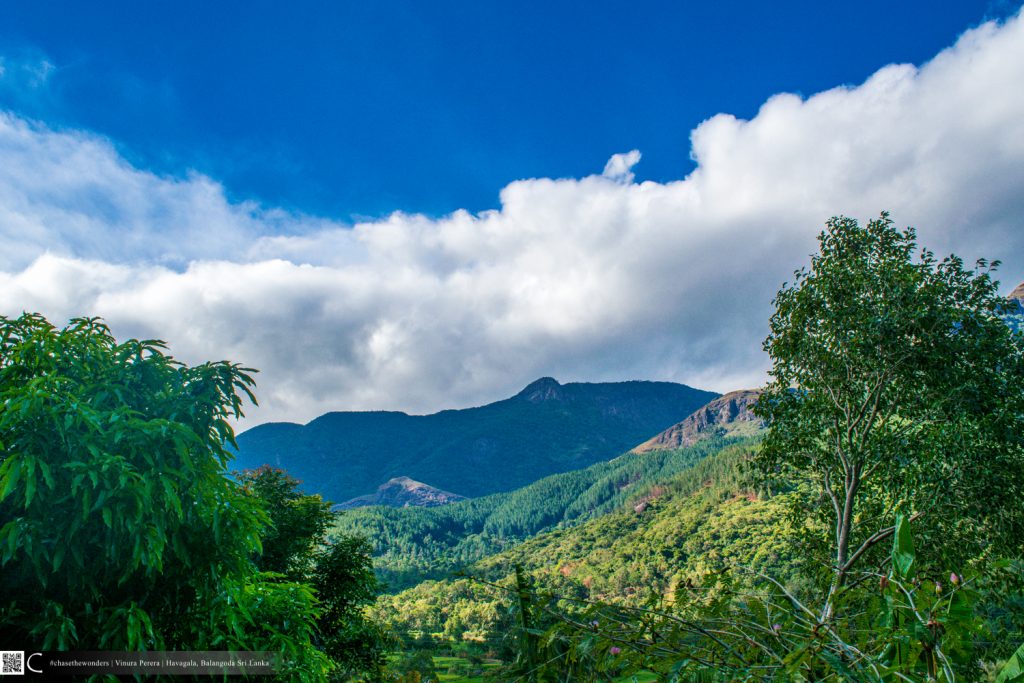 There we relaxed and got refreshed before finishing our hike, filled with so many memories and adventures that we would cherish for a lifetime.